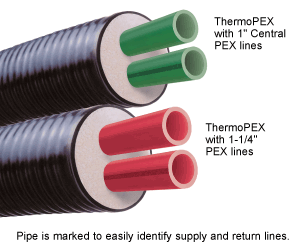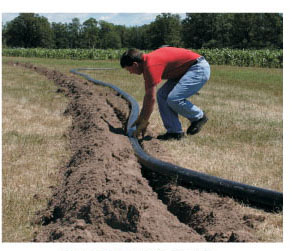 It Pays to Install ThermoPEX



ThermoPEX insulated piping saves energy and maximizes efficiency by keeping heat loss to a minimum.  Greater system efficiency maximizes the delivery of heat from each pound of wood. Reduces wood consumption.


Makes your Central Boiler outdoor furnace installation quick,
easy and efficient.



• Pre-assembled and ready-to-install

• 100' or 800' lengths with 1" PEX lines

• 300' length with 1-1/4" PEX lines



• Can be installed even in high water table areas

• UV protected

• Contains both supply and return lines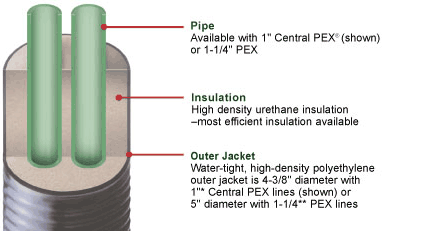 ThermoPEX is flexible pre-insulated piping that is ideal for use with outdoor wood furnaces. ThermoPEX consists of two 1-inch* oxygen barrier Central PEX lines or two 1-1/4 inch** oxygen barrier PEX lines (supply and return) that are insulated with high-density urethane insulation and a thick, durable, waterproof, polyethylene outer jacket.



*CTS ASTM 1" supply and return.
**CTS ASTM 1-1/4" supply and return.